It's in the genes!
I've often wondered how much of a rat's personality is down to the genes or down to the upbringing and after a recent foster experience, I think I might have a few more answers!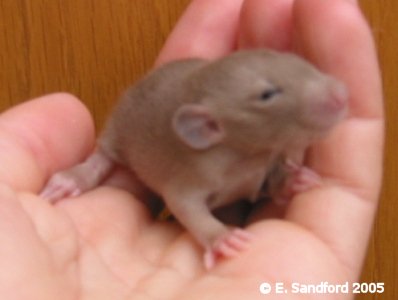 I have two separate breeding lines here – my blue line, which is pure English and tends to be very laid back and placid, then there's the manic Burmese/Siamese/dumbo line, which tend to be quite full on cheeky monkeys. Recently Nicola had a birthing problem with her Burmese dumbo and required an urgent foster. Having had her litter earlier that day, my blue doe Kerry, was only too happy to oblige and took in the foster kittens like her own. (Sadly only one of the three that came to her survived, probably down to trauma of the birth.)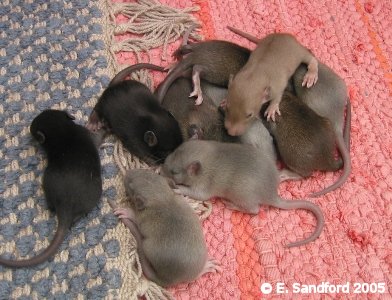 Harry (the boy who lived!), began to really make his presence felt from about 10 days old, when he was the first escaping the nest, while his foster siblings were happy to remain in the nest. He opened his eyes on day 12 and poor Kerry never got any peace after that – she had a dumbo shaped shadow! Her own babies were little angels in comparison to the little monkey that is Harry and although they played, it never seemed quite as boisterous as Harry was – aside from the pulling at those strange dumbo ears he adorned. It seemed like Harry never slept – he was always out of the igloo and always there with that 'pick me up' look on his face. When you picked up Harry, he'd climb all over you and would not stay still, but then you handled Kerry's own and they would snuggle into you and sit there cleaning themselves and grooming your hand. Even things like doing the weekly photographs of them –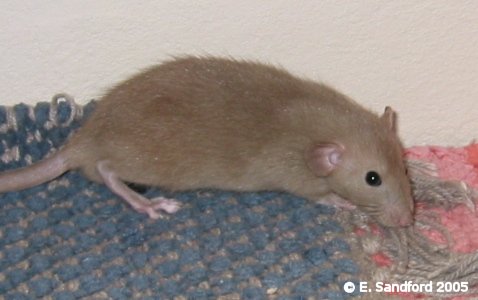 Kerry's own posed for pictures, Harry was off exploring and didn't want to be part of the group photo really!
If anyone had asked me before this foster whether it was nature or nurture that made the rats what they are, I would have said probably 50/50 or possibly even more leaning towards how the mother rat treated the kittens and how I treated the kittens while in the nest, but with the fact that Harry lived with his foster mum and siblings from about 6 hours after he was born, it really shows that the genes make a massive difference to the rat.
Harry has now gone home to Nicola, along with one of his poor longsuffering foster brothers who will probably spend the rest of his life wondering 'why me?'!
Article written by Estelle & published in Pro-Rat-A 150