Welcome to Alpha Centauri Stud!
My name is Estelle Sandford. I run a rattery in Litton in Somerset which is in the South West of the United Kingdom. My primary aim in breeding is to improve the longevity, health and personality/temperament of the lines I breed.
Alpha Centauri Stud is my NFRS registered stud name which was achieved by Alpha Centauri Fred, a black eyed white buck when he became a silver champion at the Bradford Championships in January 2001 and many of the rats I have bred over the years have done well at shows and become champions.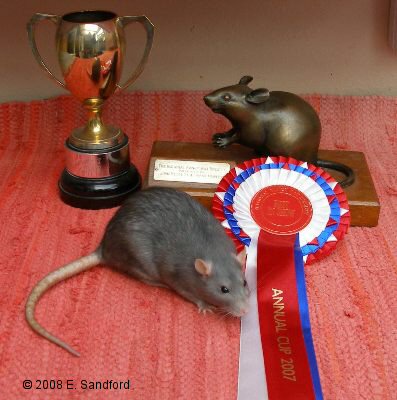 Alpha Centauri was inspired by the late Douglas Adam's book 'The Hitchhikers Guide to the Galaxy' with one of the more well know phrases from the book being.....
'In those days spirits were brave, the stakes were high, men were real men, women were real women and small furry creatures from Alpha Centauri were real small furry creatures from Alpha Centauri.'
The rat-room has the nickname of "The Restaurant at the End of the Universe" because they eat better than me and this is in keeping with the Hitchhikers theme.
I am an NFRS Championship Judge and have judged for many rat club shows in the UK and Europe.
I have been breeding for 20 years although am not as active in breeding rats as I used to be, but currently breed a litter or two per year towards British Blue based variety fancy rats. The British blue based line can be traced back to the first ever litter I bred.
If you wish to know more about my breeding plans, please contact me.
Please note any other reference to Alpha Centauri Rats or Alpha Centauri Stud has nothing to do with Estelle Sandford or my breeding lines.