NFRS Standard - in New Varieties from Jan 2007
To be an apricot colour evenly ticked with silver guard hairs, with brown points on the nose, feet and root of the tail. Belly colour to be a pale cream. Top colour to be even carried well down the sides with clear differentiation between belly and top colour. Ears and tail to be lightly pigmented. Eyes Black.
Genetics: genetics currently unproven and being researched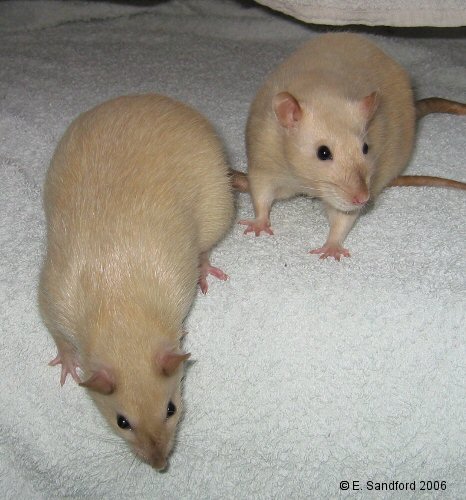 Points:
| | |
| --- | --- |
| Top Colour and ticking | 15 |
| Belly colour | 5 |
| Eyes | 10 |
| Points | 10 |
| Tail | 5 |
| Ears | 5 |
| Remainder - general conformation | 50 |
(To make it clear, the standard calls this variety golden Himalayan, but the genetics mean the rat can either be Siamese (ch/ch) or Himalayan (ch/c) based to produce the correct shade for standard. It is perfectly possible to breed full dark shaded golden Siamese and these have been bred, but at this time there is no written standard to cover them.)
The picture to the right shows Alpha Centauri Icarus (front) who is a ch/ch based Golden Himalayan and Alpha Centauri Aphrodite who is ch/c based Golden Himalayan. Selection for poorer shaded Siamese based equally gives the correct colour to standard as Himalayan based. (good news for Burmese breeders who select for 'naff' (poorly shaded) Siamese anyway to get the Burmese the right colour!)
History
As Golden Himalayan has now been added to the NFRS New Varieties, I thought it was time to properly introduce the variety and give a bit of history and information on what we know about this very attractive new variety to date.
Early articles on the 'dark eyed creams' (now known as ivory) in Pro-Rat-A by Claire Jordan (107, page 9-11) did indicate that there were 'other' shades of the cream – a darker one was mentioned, but it has never been clear whether this was what we now call cream or the biscuit cream (Burmese with no points) or whether this was actually what we are calling the Golden Himalayan. I remembered seeing a Golden Himalayan at a Cardiff Show a few years ago owned by Tennyson Stud and bred by Brenda Dunn (Scotratz Rattery) but that doe was never bred on from and until I randomly had one turn up in one of my litters recently, I am not aware of their presence elsewhere.
Reappearance of the Golden Himalayan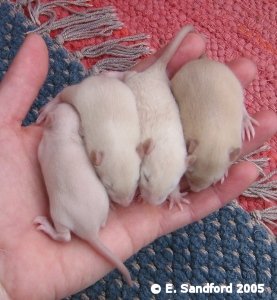 I bred Alpha Centauri Theseus (Russian blue Burmese roan rex odd-eyed dumbo from black eyed Siamese x Burmese rex parents) to Halycon Amphitrite (agouti from black x cream parents) and had this strange almost topaz looking kitten appear (the one on the right in the picture). I watched her as she grew wondering what she could possibly be and then at around 5-6 weeks (below pic) she started to develop points on what looked like an golden/apricoty/topazy body colouring with a white belly (so clearly agouti based). This rat was named Alpha Centauri Aphrodite.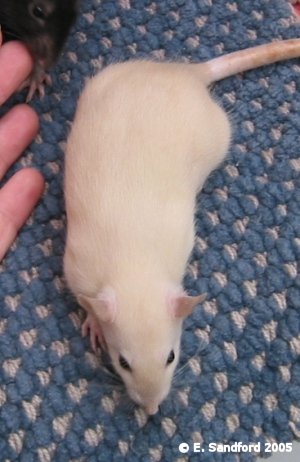 Two of her brothers were also not 'regular' Himalayan coloured, they had a creamy coloured body rather than the true white of Himalayan and later these have been identified as being the 'self' (a/a) based version of Aphrodite.
At the point where my first one arrived, I asked around other breeders who had experience of the black eyed varieties and was advised by Veronica Simmons who had bred black eyed Siamese (BES) and Himalayan (BEH) from the first ones sent down from Scotland, that she had seen a few of these darker ones but they had been selected against and homed as pets as she was working on getting BES and BEH. A few months after Aphrodite was born, Alpha Centauri Mwyndy (black eyed Himalayan from black eyed Siamese x Burmese) to Valhalla Malarkey (cinnamon rex from cream x mink rex) owned by Lisa Grove gave birth to a golden Himalayan as well. We have bred on to try and make a few more and I've had plenty turn up, while Lisa currently has had none from her doe, but these golden Himalayans seem to have been quietly 'polluting' a few of the black eyed Siamese/Himalayan lines and a few others have had them turn up unexpectedly as well!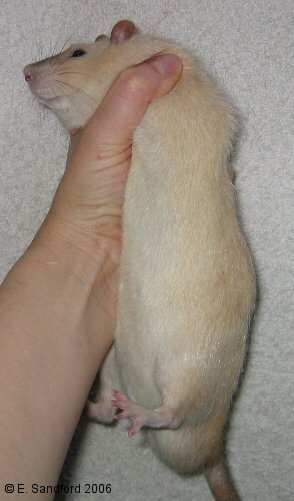 Since Aphrodite turned up, I have been trying to work on ascertaining a little more what is going on with the genetics of all this. Some of Aphrodite's brothers were not just 'normal' black eyed Himalayans, they definitely had something a little off-white about them so I bred one of these brothers back to mum, Amphitrite to try and make more. From that litter I kept Atlas and Hope – Hope is clearly Golden Himalayan, while Atlas is probably the 'self' (a/a) version of the Golden Himalayan. I also bred Aphrodite to her brother Sylvester (again probably a self based version of golden Himalayan) on the trail of new information. One thing that hasn't really helped me is that I know there is roan in the lines, so some rats may have lost their markings from being marked and from a variety that fades! Aphrodite's litter randomly had one pink eyed white in it, and it was noted in all litters to date that the ones that developed no points – i.e. the pink eyed white and the ivory based ones, also have shown no trace of the golden colouring. It only seems to be possible to get golden where there are points involved – i.e. Siamese or Himalayan based. With the roan situation on Aphro's litter, I wasn't sure if this was anything to do with roaning or other genes, but other litters since have shown the same phenomenon.
All this is still a bit new and work in progress. To date this golden 'gene' seems to be recessive to the c locus, but doesn't seem to work on what we assume are albino based – i.e. the pink eyed whites and ivory kittens, but these kittens do seem to be able to 'be' it underneath the white. So far no-one has seen it on anything other than black eyed rats, but this may be just down to the fact that it is a gene that's appeared off the black eyed and I think only one kitten in a litter born from these has actually been red/ruby eyed. One of my first litter plans of 2007 will be using a ruby eyed Siamese to golden to see if I can work on creating golden Siamese with ruby/red eyes as well or whether it is specifically linked only to the black eyed gene. We also need to do conclusive tests with cream, ivory and pink eyed white with golden and also the ivory and pink eyed whites we get from golden litters need to clarify for definite if they are 'golden' under the white so we've plenty of work to get on with over the next year or so.
If anyone does get any of these golden Himalayans randomly turn up or does breed any litters with them, I would really appreciate it if they can drop me a line with the litter information so I can add it to what we already know. Even if it doesn't prove anything new, it's always useful information.
The above picture shows the agouti demarcation and the picture on the right shows the comparison between a 'self' (a/a) golden Himalayan and an agouti (A/-) golden Himalayan. As you can see, it would be easy to mistake a 'self' based for either a too creamy Himalayan or a cream based Himalayan.
More pictures below show comparison with other 'c' locus varieties I have examples of currently that I can compare with: -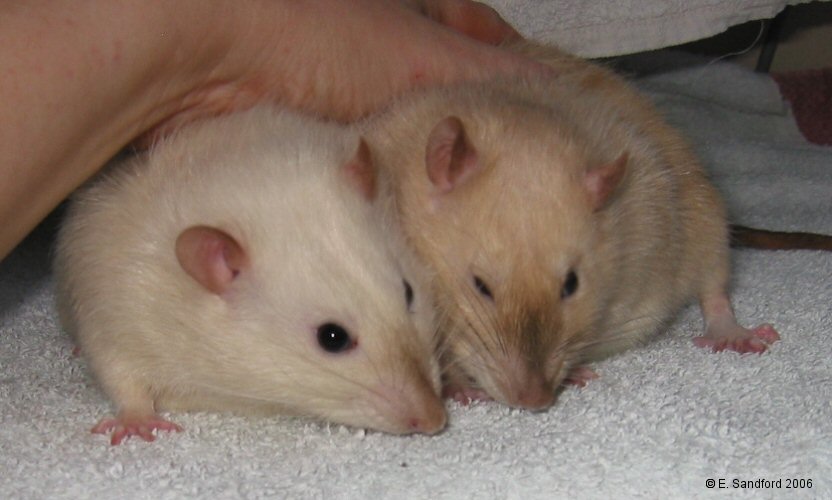 Above: - Alpha Centauri Atlas (self based Golden Himalayan) & Alpha Centauri Arion (Golden (ch/ch) Himalayan).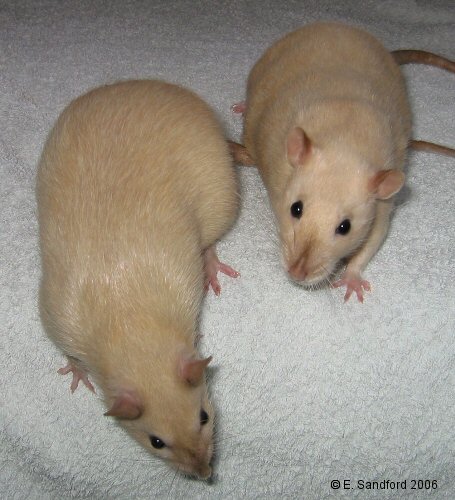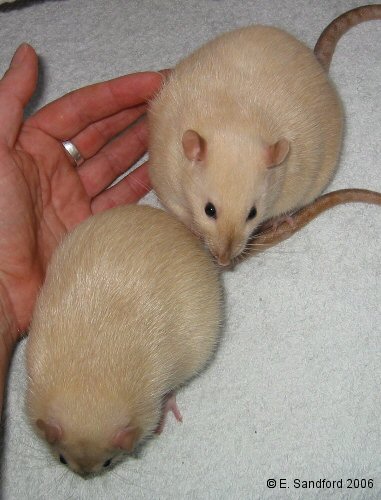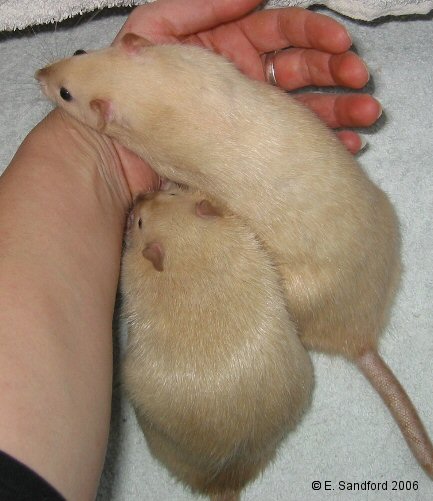 Above: - Alpha Centauri Icarus (left in all pictures - Golden (ch/ch) Himalayan) and Alpha Centauri Aphrodite (Golden (ch/c) Himalayan)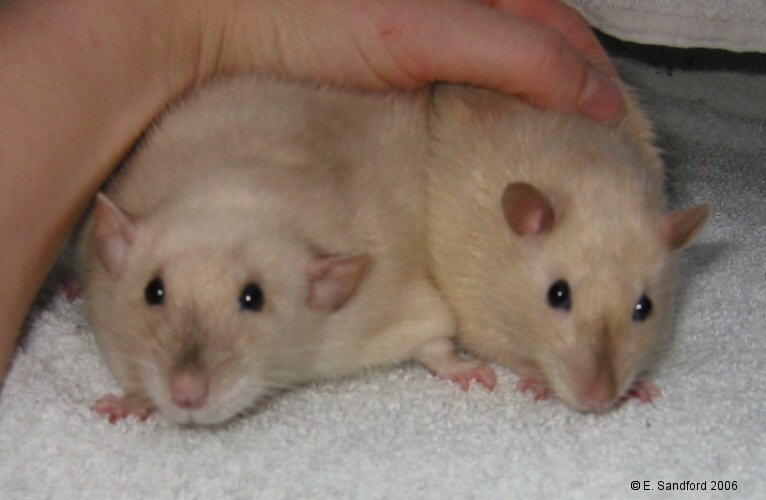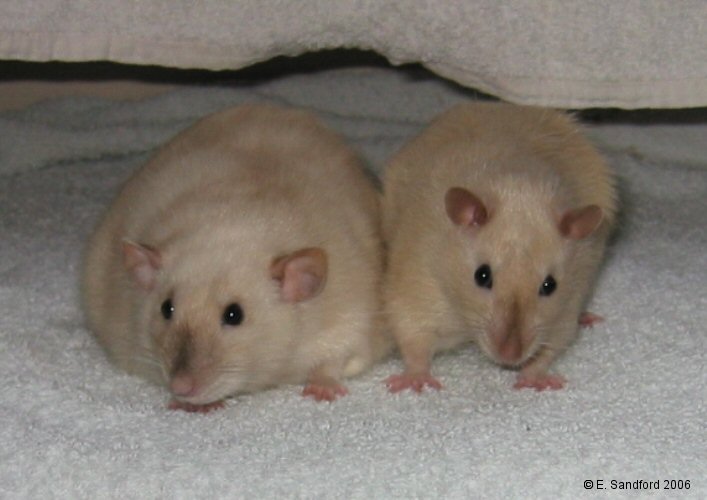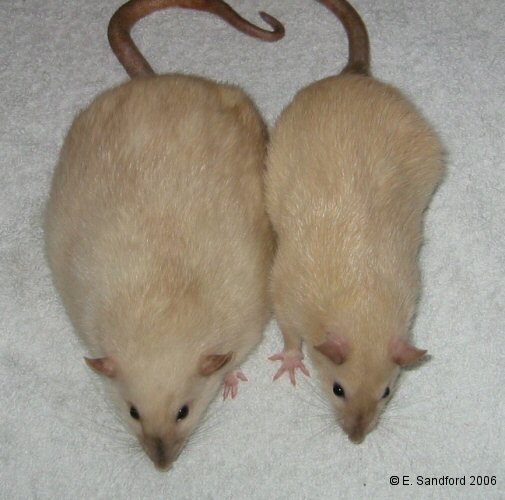 Above: - Hakuna Matata Ariadne (left in all pictures - agouti based black eyed siamese - getting a bit old and patchy now so not the best example) and Alpha Centauri Icarus (Golden (ch/ch) Himalayan)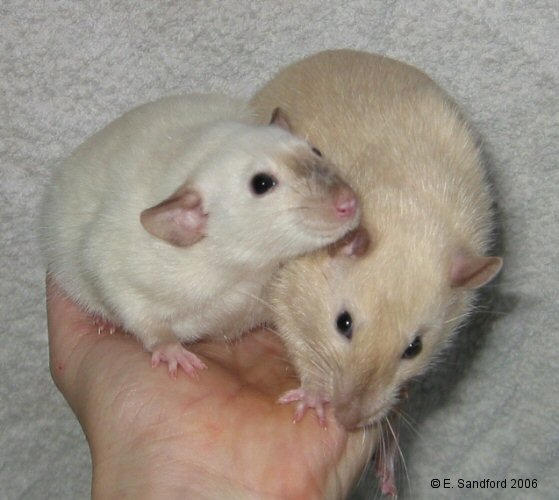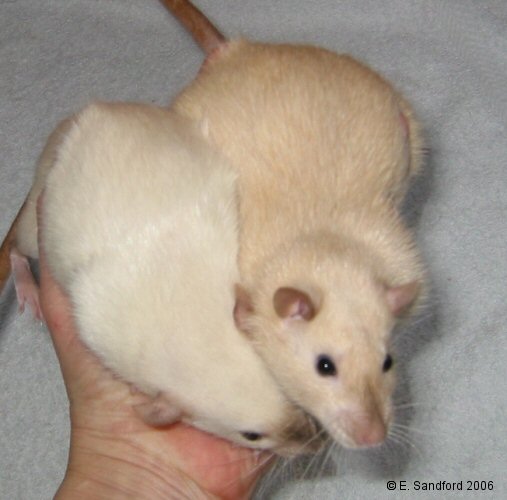 Above: - Alpha Centauri Cassandra (left in both pictures - Burmese bred (so fairly poor on shading) black eyed Siamese) and Alpha Centauri Icarus (Golden (ch/ch) Himalayan)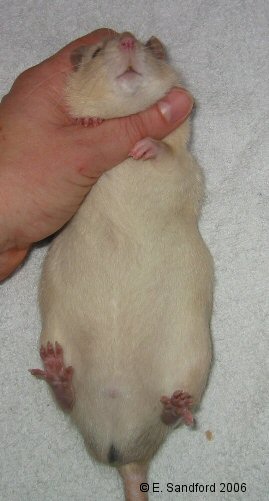 Left: - Alpha Centauri Icarus, (Golden (ch/ch) Himalayan), showing belly colour.
Below: - An array of 4 week old golden based kittens from Alpha Centauri Aphrodite x Alpha Centauri Sylvester (Aphro's brother). The 3rd from the left on the front row is Alpha Centauri Arion.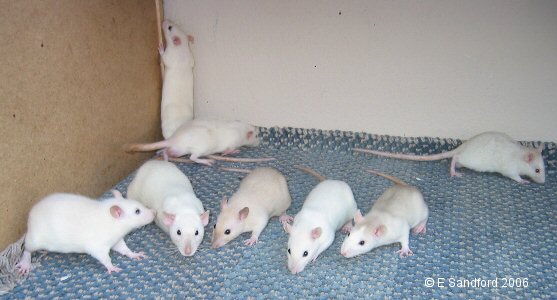 An article updating the Burmese breeding is here and the black eyed variety here. Comparison pictures of these new c locus varieties can be found here.
References relating to black eyed varieties and possibly referencing the golden as one of the varieties:
Pro-Rat-A 107 p9-11
Pro-Rat-A 111 p8-9
Pro-Rat-A 115 p10-12
For reference and comparison with above - NFRS Standards related to the other black eyed varieties: -
Siamese (includes both eye colours)
Body colour to medium beige, gradually and evenly shaded over saddle and hindquarters towards the belly, being darkest at the base of the tail. There should be no white or very pale areas anywhere on the body, feet or tail. Tail colour to extend down the length of the tail. Belly to be light beige. Points to be rich dark sepia and shade evenly into the body colour. Eyes black or ruby.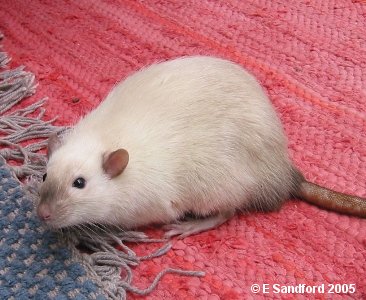 Black eyed Himalayan (currently in New Varieties)
Body colour to be white with beige points on the nose, feet and root of the tail. Beige shading not to extend above the eyes on the face, beyond the elbow on the forelegs or beyond the hocks on the hindlegs. Ears and tail to be lightly pigmented. Eyes Black.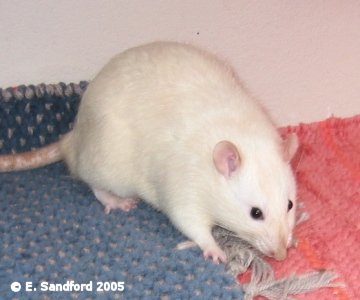 Ivory (previously known as black eyed cream) (currently in New Varieties)
Body colour to be very pale creamy white all over with no odd coloured hairs or patches. Ears and tail to be pink. Eyes Black.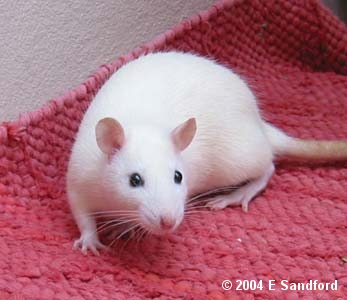 Cream (currently in New Varieties)
Body colour to be a rich 'Devonshire' (warm) cream colour with no odd coloured hairs or patches. Ears and tail to be pink. Eyes: black.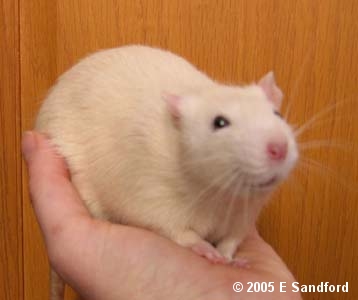 Article originally published in Pro-Rat-A written by Estelle in 2005